"Formula 50" Overdrive Head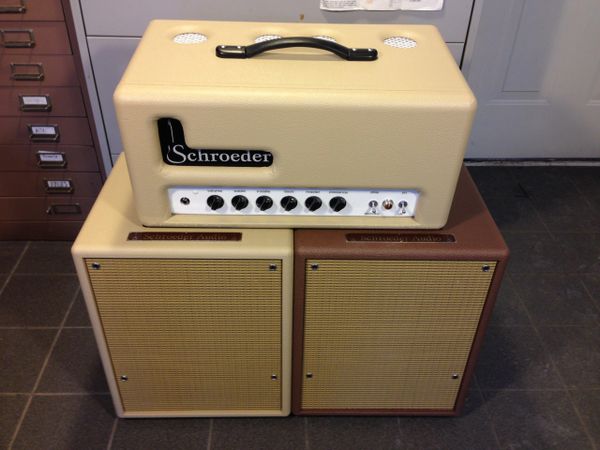 "Formula 50" Overdrive Head
The Schroeder Amplification "Formula" series took over 12 years of tweaking and adjustment before it could wear the Schroeder badge. The final product is known for its ability to sit right on the edge to where a player can use his pick/finger attack to make the amp shift from a chiming, relaxed and shimmering tone to one of full "chunk" grind. It is often said to have all of the qualities of the finest Marshall amps without the bad ones. You only need to watch the video of Jake Cinninger playing the prototype to understand what these are capable of... (Video to be added to the "Media" page in the next few days)
Specs and features of note:
-Chassis is made of 1/8" (!) folded and welded aluminum, powder coated and screened.
-A 10 turn pot with locking dial is located just to the left of the tubes. This combined with the tip jacks (1 for each power tube) located on the back, make user bias and tube changes safe, fast and easy.
-All internal wiring connections made using a Litz coated, oxygen free copper wire of extreme purity. Unlike generic "cloth covered" wire, it will not absorb airborne moisture, oxidize and/or degrade the signal over time. Using this wire requires special tools and means that EVERY wire needs to be cut to length and tinned with a 900 degree solder pot. A laborious and time consuming process but the resulting improvement to the sound is stunning!
-The Custom power and output transformers have all been developed over our decades long relationship with Mercury Magnetics. They feature custom winds and lots of iron for reduced "sag", a tight and transparent low end and silky highs.
-Specific components are cryogenically treated to aid in their transparency.
-A very fast and "organic" feeling solid state rectifier circuit means greater reliability and musicality.
-60 cycle hum is kept to a minimum due to the additional power supply components in the preamp section.
Tube compliment:

-3X Sovtek 12AX7LPS, Pair JJ E34L
Front Panel (left to right):
-1/4" input, 3-way bright switch, Pre, Treble, Middle, Bass, Master, Presence, Standby Switch, Pilot lamp, Power Switch.
Rear Panel (left to right):
-2A Slo 20mm fuse, 500Ma Slo fuse, IEC female power socket, 3X "Tip jacks" (for bias measurements), 1/4" 4 Ohm out,
1/4" 8 Ohm out, 1/4" 16 Ohm out.
Options:
-Record out (TS or balanced via TRS or XLR, Speakon connectors. (Additional charge. Please contact us for pricing)
Output:
-50 Watts
-11 3/8" Deep x 10 5/8" Tall x 21" Long
Shipping
Unless currently in stock, lead time is two to three weeks.

If your shipping address is outside the continental U.S., please contact us for payment of additional shipping charges.